Dear friends and family,

I seem to be in the habit of waiting till after the new year to get this out to you. Doesn't seem like I have much exciting to write about this year.

I do have a new member of my family. I started out fostering Marley last February. My original plan was to only foster a dog for two weeks because I had started remodeling my house to put on the market. He was one of eight Springer's rescued from a horrible puppy mill in south-east Colorado. When they all arrived in Denver, they had all become car sick and were covered in dog puke. Marley was in a kennel all by himself, filthy. I couldn't stand it anymore, so I opened his kennel and took him over to a hose and cleaned him off. I then sat with him, trying to reassure him that everything was going to be ok.

When we arrived at my house, he was terrified. He just sat in a corner, shaking, not really interested in eating. Eventually, I took him into the bathroom, put him in the tub, and gave him a bath. After drying him off, I put him inside a kennel and shut the door so that he would be able to feel some sort of security so he could get some sleep.

He was still nervous the next morning, but was able to eat something. Billy, my oldest Springer, instantly became a big brother and started hanging out with Marley, teaching him how to use the doggie door. It was pretty cool to watch Billy take Marley under his wing. At some point during the day, Marley finally found it in himself to wag his tail, and the third morning, after sleeping on my bed, he gave me a kiss. In no time, the two weeks were up, but I was in no hurry to stress Marley out by sending him to a new foster home, so he stayed. A trip to the vets to become neutered and to treat a bad case of worms, and the was starting his recovery.

After a couple of months, we listed him on the Springer website as being ready for adoption. A nice man from north Denver came to meet him and adopted him. I told the guy if anything happened, to be sure to let me know. The look of Marley's face as he drove away really haunted me. Three weeks later I received a call and he said Marley just wasn't happy and he'd like to bring him back. I told him to bring him on back. The moment Marley jumped out of the car, the gentleman commented that this was the happiest Marley had acted since they had left. After a couple of cases of people coming to meet Marley, and his refusing to even go for a walk with them, the Springer Rescue group and I determined Marley was "unadoptable" except my me. So he became a permanent member of our family. Marley has become my "velcro" dog - he's constantly by my side or sleeping at my feet. He is a great friend!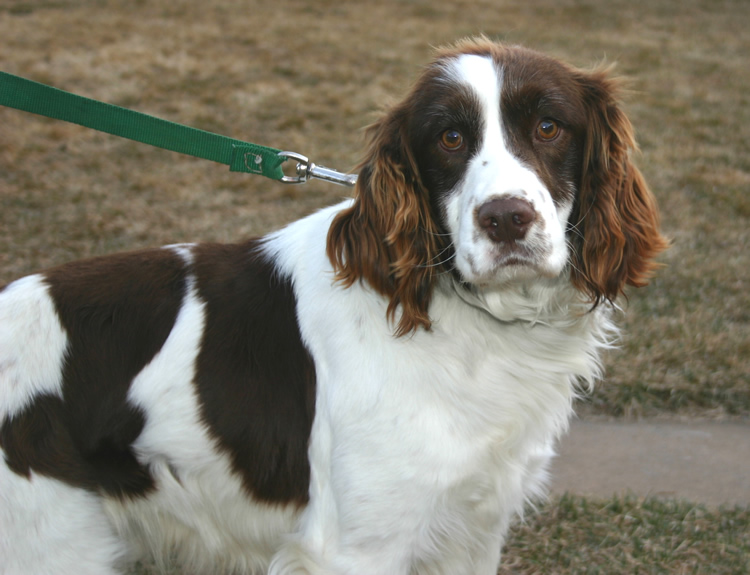 Marley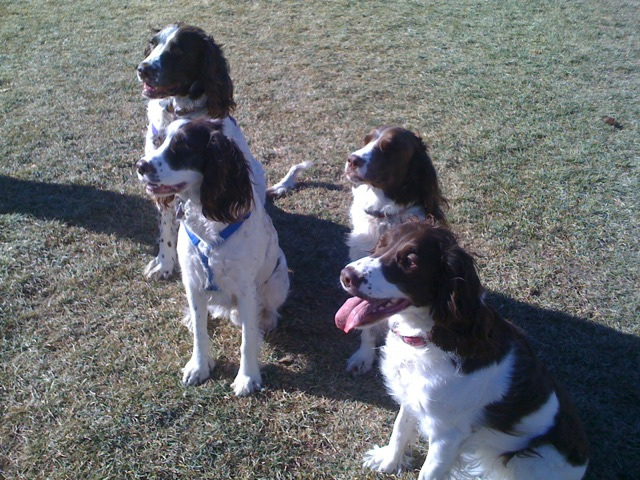 Left to right - Billy, Marley, Eddy, & Annie (a Springer I fostered last year)
All my relay races (Vermont, Colorado, & Oregon) did okay this year. The Vermont race was about the same size, the Colorado race's numbers were down a bit, and the Oregon race almost double in its second year. I started researching a new race in north-central Pennsylvania but so many permits are required, there's no way I could get it ready for this year, so I've put it off until 2012
My race timing business also grew. I really enjoy working with the smaller community races that are typically fund raisers. The biggest treat from my timing business was being hired to time a 5k race in Cabo San Lucus in Mexico. I and a friend flew down and spent four days there. Very nice people and we met many Americans and Europeans who are living there full-time.
I didn't participate in any races this year. Between babying my knee (torn meniscus in 2005), spending 2 - 3 months working on my house in the spring, and quite frankly, being burned out on training, I really didn't have the interest. But the burn out is now gone, and I've targeted a Half Ironman in Calgary to do the end of July. I started training last month and am enjoying it again.
I put my house on the market in April and it has not attracted much interest. Part of the problem is there were several others in my immediate area who had the same idea, so the for-sale market was a bit crowded. Not being desperate, I wasn't willing to listen to low ball offers, so I'm still here. I originally wanted to move back to Fort Collins, but have started researching a more drastic move, one I've fantasized about for years. So I will probably stay here in Englewood until I decide if this drastic move is realistic or not.
I did manage to fit in a couple of great trips. Both were to the Grand Canyon. We did an eight-person rafting trip in late August/early September, and a backpacking trip between Christmas and New Years.
The river trip, with only eight people, was one of the most relaxing Grand Canyon trips I'd done. Everyone was very helpful so the trip went very smoothly. We had a bit of excitement with a flip at Horn Creek Rapid. At 8,000 CFS, Horn Creek Rapid at this level was the ugliest looking rapid I had ever seen in the Canyon. No matter how long I looked at it, I couldn't find a clean run through. Then, at Lava Falls, the river gods had decided my luck had run out as the last wave/hole in the rapid flipped me. Fortunately, no one was hurt in either flip and made for good stories.
| | |
| --- | --- |
| Hitting last wave/hole straight | But wave stopped my momentum |
| Raft falling back into the hole and I'm thinking "Oh shit!" | Raft being turned sideways and 2 seconds later we were upside down |
Last pictures taken before I flipped
Here are some other videos if you are interested:
I am planning on having more time this year to travel. My races are organized enough now that they won't require as much work each year. I'm considering the Half Ironman in Calgary and also a bicycle tour in the Canadian Rockies. All three dogs now have doggie packs so we'll be doing some backpacking. Plus, I've been asked to be the lead boatman on a Grand Canyon trip in October. So I'm looking forward to having some fun this year.
I hope your year has started off well and I wish you a happy and healthy 2011.
Eddy, Billy, Marley, and Paul