Dear friends and family,

Well, I missed Christmas, and I didn't get this out before New Year's Day, so Happy Valentine's Day!

A bit harder to get motivated to write this annual letter this year for some reason. I think it is because I really don't have much leisure time. Whenever I do, I seem to fill it in with some new project or goal.

The year started out preparing for my races. But I didn't make that easy on myself. To fill in the spare time, I started a job in late January with the Denver Public School system driving a school bus. I had four High School special needs kids that I dropped off in the morning and took home in the afternoon. For my second run each shift, I had a different group of elementary school kids. I had about 4 hours in-between my shifts to walk the dogs, try to fit in a run, and work on the races. By mid-April, I was overwhelmed, as the races needed more time so gave my two-week notice. The kids were disappointed I was leaving as I was an ol' softy and let them have fun.

Both my relay races (Vermont and Colorado) grew this year, which was satisfying. The Colorado race has almost reached it max – hoping it will fill this year at 150 teams. A friend in Oregon told me about a one-day relay race that used to be run between Eugene and Corvallis. It was a race based on the inter-state football rivalry between the University of Oregon and Oregon State. Asked if I was interested in reviving it, I said yes. Thus, the "Civil War Relay" (the game between Oregon and Oregon State is referred to as the "Civil War") was revived. It was held the first weekend in December and is a 52-mile race. There are 5-person teams and it is divided up into 25 legs averaging 2-miles, so each person runs 5 times. Despite the weather (it was clear but COLD), participants had a fun time and had good things to say about the race. I had a good time making several trips to Oregon to scope it out and am looking forward to it growing. There were twenty-five teams despite only about two months of limited marketing.

My brother and I have also started working on a trail race series. We are planning on 3 – 5 races with one race a month. I'm finding the one-day races are much easier to organize and stage compared to my two-day 200-mile relays. And it will be fun working with Dennis on these races.

This was also my first year timing races. Once I got the hang of it, I really enjoyed it. I was hired by small community races, which were fun to be involved with. I was hired to time a 10k race in Telluride so made my first trip there. When I was in college, Telluride wasn't much more than a ghost town/artist community. Now that "Hollywood" has discovered the area, it's been remade, but what an amazingly beautiful part of the state. I really hope to be hired by the race director again so I can return.

Springers continued to be a big part of my life. Besides my two, Billy and Eddy, I fostered three other Springers this year. Curly, who arrive towards the end of last year, was adopted by Jay from Connecticut. He flew out to meet Curly and take him home. I visited them the past October and was thrilled Curly remembered me. He is in a great home, gets to vacation in Vermont and swim in the Atlantic.
| | |
| --- | --- |
| | |
| Billy (left) with Jay picking up Curly (right) | Curly in CT with his "brother" |
The next Springer was Ted. Ted had some allergy problems but was really affectionate. He insisted on sleeping right by my head on my bed at night. It was a challenge for him to let Eddy even allow him up on the bed. Ted was adopted by a family in Boulder and they've reported that his allergies been alleviated.
Chris pickup up Ted
The day after Ted was adopted, there was a post about poor Annie, who was owner released to a horrible shelter in Lamar (eastern Colorado). Even though Ted had just left, one look at the photo and I told them I would foster Annie. Annie was a project. She was so shook up by her kennel stay that she would not even come out of her transport kennel. After witnessing Annie's behavior, it was obvious to me she had been abused. It was several months before we even put her for adoption to allow her time to heal and for her personality to come back. It was a great stroke of luck that a woman out on a walk with her Brittany Spaniel met Annie while we were out for ours. After five months with us, Annie was adopted by this woman who lives just four blocks from us, so we run into each other fairly often at the dog park.
Billy, Annie, Eddy

Annie

Cara & Annie
I'm looking forward to becoming settled again so I can foster another Springer.
I had time to fit in several backpacking and rafting trips this year. Billy and Eddy were introduced to backpacking and loved running up and down the trails. I organized a 6-day Main Salmon rafting trip in September, and did a 5-day backpacking trip in the Grand Canyon in October. The Canyon trip was on one of the few South Rim trails I hadn't done before. It was by far the most beautiful trail I've hiked there – the trail provided the most spectacular views of the Canyon and river of any of the trails I'd done there before.
Eddy's first time on the trail

Eddy & Billy on the South Fork of the Poudre

Eddy, friend Sue, and Billy on their first rafting trip on the Main Salmon

Grand Canyon on Boucher Trail in October
But last but not least, the highlight of my year was meeting Linda. My sister-in-law, who works with her in the Fort Collins school district, introduced me to her. I was skeptical when Cindy said she had a friend that was perfect for me, but we've really hit it off. Linda is an outdoor enthusiast and a dog owner. Her dog Lucy and Billy have become best friends and play nonstop when we are together.
Meeting Linda has motivated me to do something I've wanted to do for years. Rather than take it easy this winter, my house is now torn apart to paint and fix up to put on the market so I can move back to Fort Collins. I've been in Denver/Englewood for over 15 years so I'm excited to move back. Hanging out in Fort Collins this past summer/fall was really nice. Despite the growth, there is still a community/small town feel to the place. I'm hoping the sale of my house doesn't take too long so I can be settled in the Fort before my race season starts getting hectic.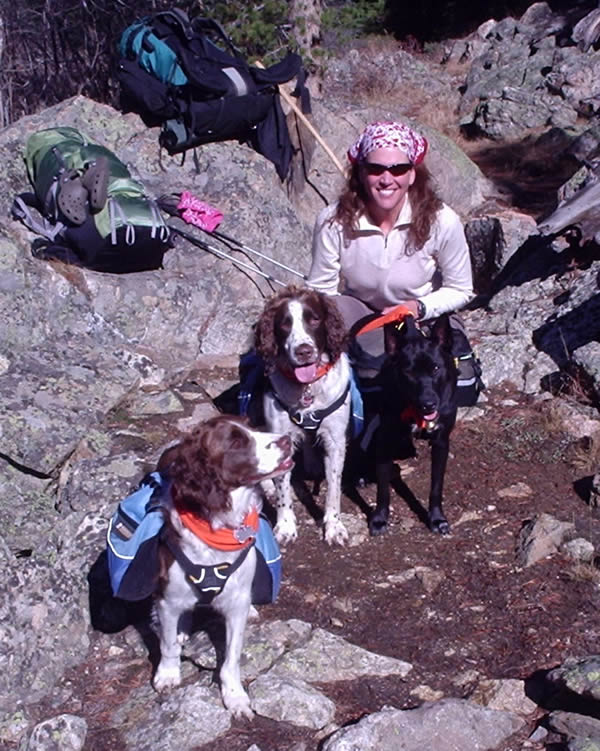 Eddy, Billy, Linda, Lucy
2010 looks to be pretty exciting as there are some great river trips that a group I've formed has obtained permits for. We'll be doing the Salt River in Arizona the end of March and the Grand Canyon the end of August, so I'm very excited.
I will try to be more punctual later this year and get my annual letter out on time. I hope all is well with you and your family.
Eddy, Billy, and Paul