Belated Happy New Year!
I've had a harder time than normal this year to get this annual "yada yada yada" out. It's hard to say why, possibly because I spend most of my day in front of the computer working. But I guess I'd better get after it before it's time to do the 2008 letter!
It was another full year with work and activities. The year began getting ready for a quick trip to go bicycle touring in New Zealand with my friend Angela. I don't need much of an excuse to return to NZ, but there was an ulterior motive for this trip. After watching Angela do the Wisconsin Ironman last year, I decided to give one a try. So my brother and I entered the Louisville Ironman in August. So part of the reason for the New Zealand trip was to escape our winter and get in some bicycling miles. So in just over two weeks, we bicycled down the west coast of the South Island, retracing a ride I had done back in the mid-80s. It was pretty amazing (and reassuring) to see that for a vast majority of the route, nothing had changed in 20 years. Sure, some of the towns had grown, especially Wanaka, which used to be a small, quiet little village. Now it is an insane, over-commercialized mad house. But a vast majority of the towns were still clean, quiet, peaceful farming communities. Still, it was wonderful to be back there and to restock my freezer with great NZ Dark Chocolate!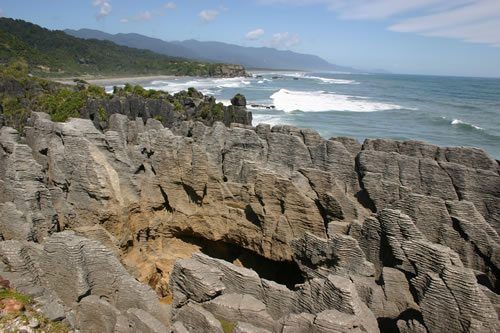 Punakaiki - Pancake Rocks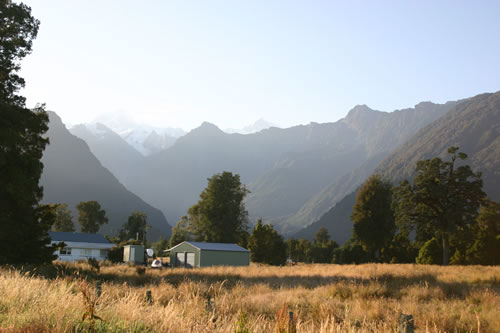 View towards Franz Josef Glacier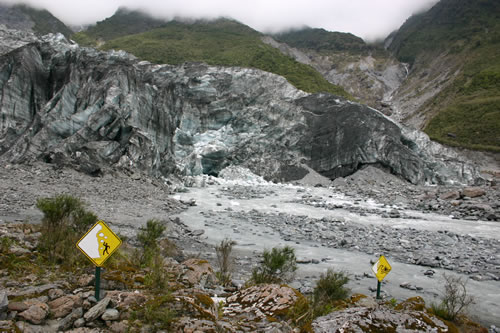 Receding Fox Glacier
For more NZ photos, click here
The majority of the spring and summer was spent preparing for my two relay races and fitting in my training for the Ironman. I was working with a coach who provided me with workouts to fit in each week. So most days, I was going for a swim, on my bike, going for a run, or doing some weight training. It made for full days without much free time. So for the first time since I can remember, I never got on the river.
The summer sailed by. My June Vermont relay event went real well but hardly grew from the previous year despite extensive marketing. So after receiving some feedback from local runners, I decided to move it to a later date – we are trying the summer solstice weekend this year. Much to my relief, that seems to have done the trick as registrations are way up.
Then in August was my Colorado relay event. It has continued to grow, and feedback again was very positive. With it firmly established, I am looking at creating some new, smaller events for 2008.
As part of my training for Louisville, I did two half Ironman races. The first in June was in Lubbock, TX. That is a drive I won't miss doing again. But the race was fun. I saw some friends at the finish line who were also training for Louisville and my comment was "I can't believe we're going to have go double this distance in 2 months!"
On the Bike and Run for Buffalo Springs Half Ironman - Lubbock, TX
In July I did a Half Ironman in Sonoma County, California. It was my first time back to this area since I was a flight instructor at the Santa Rosa Airport in 1989 – 91. This was a wonderful event with a very scenic course. Fortunately, I felt much better at the finish than after Lubbock, so I was starting to look forward to the Ironman.
So late in August, it was off to Louisville for the Ironman. Louisville was wonderful. The 2.4-mile swim was in the Ohio River. Due to heavy storms upstream in Illinois and Indiana, the current of the Ohio River was very strong. The original course was to swim upstream to a buoy, then turn around and swim back down stream. But the current was so strong that swimming upstream was next to impossible. So at the last minute, the race organizers had to change the course. The start was moved upstream, where rather than the mass start Ironmans are famous for, we had a time trial start. We stood in a long line and one by one, we jumped in to this protected estuary and started swimming upstream.
After the swim was a 112-mile bike ride. It was my favorite part of the race. The route was beautiful. It was out in the country on rolling hills passing horse farms.
But then came the marathon. All I can say is "ouch." Due to the heat and the 8 hours I had already been out there, the marathon went very slow - I had to do a lot of walking. But after 14 hours, I achieved my goal and crossed the finish line. It was as amazing a feeling as I had imagined. So much so, that in a repeat fit of craziness, I've signed up for the Wisconsin Ironman this September. My goal is knock an hour or so off my Louisville finish time by having a better marathon.
The Finish Location in downtown Louisville

Standing in line to start the swim

Getting ready to start 140.3 miles

The last couple of feet before the finish

Done after 14 hours
A one minute video of the race and my finish
But one of the bigger highlights of my year was In October. I decided it was finally time to get another dog. It had been 15 years since I lost my old buddy Nick. I found Eddy through the Springer Spaniel Rescue group. To give Eddy some company, I decided to be a foster home to other Springers. Thus, we were introduced to Billy. Eddy and Billy hit it off the second they met each other. And just as I had been warned, Billy quickly became a member of our family so I adopted him as well. They continue to provide entertainment every day. Eddy is 15 now months and a girl with "attitude" - a tomboy who gets muddy and hates being brushed. She pulls at the leash, plays with passion, and generally wears me out. Billy is the "anti-Eddy", a polite 2-year old, calm, lying at my feet most of the day, but loves going for walks and runs. It amazes me that someone allowed him to be a stray he's such a good dog.
Billy (sitting) & Eddy
That's about it for the 2007 recap. Sorry it took me so long to get this done, but at least it isn't February yet. I hope you had a great year and that 2008 is off to a great start.
Take care,