It doesn't seem that long ago I was writing a holiday letter to everyone - anybody got a switch to slow time down?
This past year was not been a typical year for me – no great river trips or major travels to share with you - though there was plenty of time spent in airports for my business. Instead, I spent most of my time working on my two running relay events with some short get-a ways squeezed in.
My business Timberline Events LLC continues to grow. I now have two running relay events –the Green Mountain Relay in Vermont (www.GreenMountainRelay.com) and the Wild West Relay here in Colorado (www.WildWestRelay.com).
This past June was the first running of the Vermont event. With the tremendous help of several friends, we managed to pull off the first year that included 21 teams/200 runners. Feedback from the participants' was very positive, so I am very optimistic this relay will grow.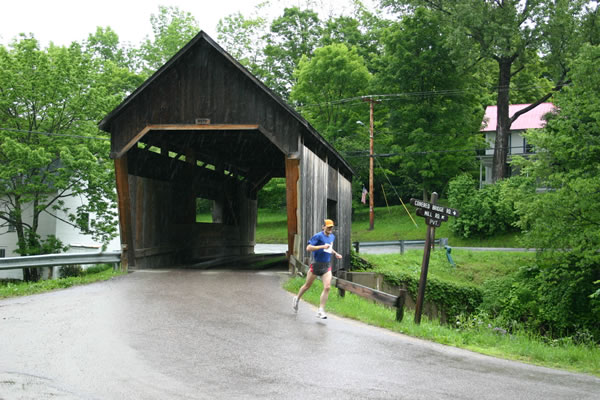 one of the seven covered bridges runners cross
The response to my Colorado event continues to amaze me. It grew to 94 teams/1000 runners in its second year. Runners came from 26 states, a Canadian province, and 5 runners from Saipan! The winning team was a collection of high school students and their coach and had a very interesting history which was written up in the Denver Post. When I went back to New Hampshire to participate in a relay race, several runners there had heard of the WWR event, so that was very satisfying. Registrations for both events are well ahead of last year's pace, so 2007 looks very positive.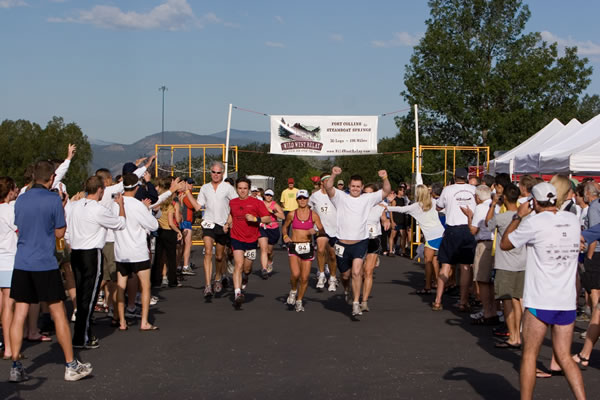 one of the waves starting in Fort Collins for the Wild West Relay event
One aspect of my events I'm very proud of is between the two, $21,000+ was raised and donated to local non-profit organizations in VT and CO such as Meals on Wheels, Habitat for Humanity, and Women Helping Battered Women.
But the growing success of my events will not be my favorite remembrance of 2006. My fondest memory of this year will be my luck in meeting Angela Kuettner. I met Angela in April when I asked my running coach at one of my track workouts who the pretty woman dressed in the pink was. After some persistence on my part, she finally agreed to meet me for a run and a post workout dinner that ended up being beer and French fries. We quickly became friends and then more. We're now approaching seven months of continuing happiness. For years I had been hoping to meet a woman who could keep up with me. Amazingly, I've met a woman who I have to work hard to keep up with! Angela is a triathlete and in October completed her second Ironman.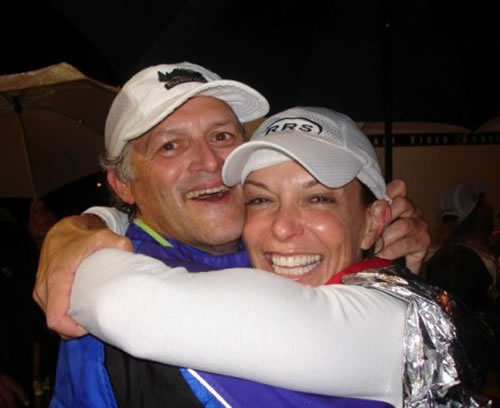 Angela and me after she crossed the finish line of the Wisconsin Ironman in Madison
Races
After my knee surgery in 2005, I've struggled to find the motivation to get back into shape. But Ange provided the inspiration for me to try my first triathlons. So during the summer, I did two sprint and one Olympic distance races that has wetted my appetite.
In September, my brother and I ran in our 7th Colorado Relay where our team again won our division. That afternoon, after our team crossed the finish line and being up all night, I flew to Madison, WI to catch up with Angela as she was competing in her second Ironman the next day. An Ironman is a 2.4 mile swim, followed by a 112-mile bike ride, capped with a 24.2 mile marathon run. Angela finished fifth in her age group and missed an invitation to the World Championships in Hawaii by one spot (less than two minutes). The Ironman in Kona is the pinnacle of the sport.
The following weekend I flew to Boston with several running friends where we did the Reach the Beach Relay in New Hampshire. This was my first time doing this event – it was part fun, part fact-finding to see how they managed their event, and also to spread the word about my VT relay.
We also squeezed in a weekend trip to Las Vegas of all places. Angela had a conference there, so I joined her as I wanted to see the Cirque du Soleil performance of Love (The Beatles inspired show). It was fantastic! We also saw The Blue Man Group – both were well worth having to put up with all the Vegas nonsense for.
Looking Forward
Watching the participants swim and bike, and then joining Angela for the last 11 miles of her marathon, the Ironman in Madison was the motivation I needed to get my butt off the couch. Watching people in long distance races, who have focused so much of their time and energy to train to achieve a physical challenge, has always inspired me. When you add watching a telecasts of an Ironman, or reading some of the moving stories of people who attempt this race, I became even more inspired. Thus, Angela, my brother (who's been doing short distance triathlons for the past several years and becoming quite good at it), and I have signed up to do an Ironman next August in Louisville, KY. I'm now training seriously again, more motivated than I have been in years. It's great to be moving again, celebrating my health and keeping my heart and spirit young. Ange and I are even fantasizing of going to Europe the summer of 2008 where I would do the Austrian Ironman, and the following weekend, she would do the Frankfurt Ironman. That way we can cheer and support each other. But first things first, I have to survive Louisville.
As part of our Ironman training, we have several fun trips planned for next year. Angela and I will be leaving the Colorado winter behind in February to fly to New Zealand to bike tour the South Island. This will be my fifth trip to this wonderful country and I can't wait to return. Also as part of our training, we'll be going to Lubbock, TX in June and Santa Rosa, CA in July to do Half-Ironman races.
I hope this letter finds you healthy and happy after another amazing year. I've always enjoy the opportunity to catch up with everyone, so I look forward to hearing what has gone on in your life.
Happy Holidays,