I hope you have had a happy, healthy, and adventurous year. It seems that as Americans, it's been a few years since we've had a quiet, uneventful year. My own personal life has been the same, though fortunately, there was way more good than bad.
The New Year opened up with our annual Grand Canyon backpacking trip. A very good friend and I spent five days in the Canyon on the Tanner and Beamer Trails. The last time I had backpacked this trail was during spring break my sophomore year of college. That was actually my first trip to the Grand Canyon and I can trace much of the choices and the directions I have taken in my life to my very first site of the big ditch from the rim.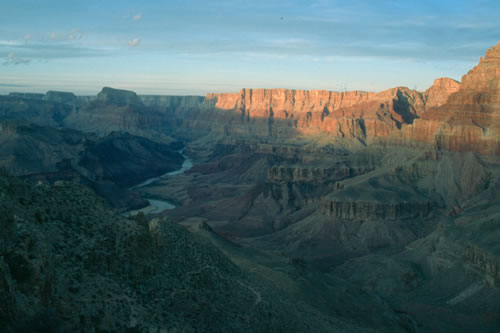 Later in January, the two of us took advantage of cheap airfares and spent 9 days in Costa Rica. It was a fast, whirlwind tour, but we made the most of it. We did a rainforest canopy tour, which was amazing.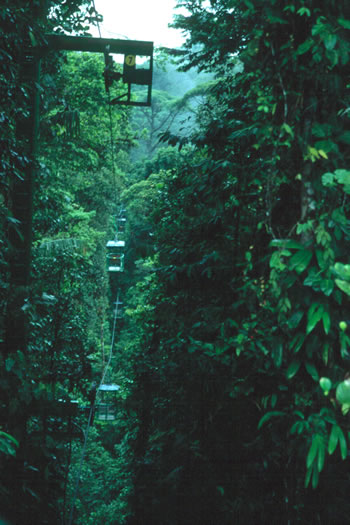 We also fit in a one-day river trip on the Rio Pacuare, which has the reputation of being the most scenic river in Costa Rica – a Class IV river through virgin rainforest. Other days were spent on the beach and hikes through the jungle. Wildlife we saw included: White-faced and Howler monkeys, an Ant-eater, Sloths, an Agouti (looks like a tailless rat), some small but very deadly snake I can't remember the name of, and a couple of Toucans. I was hoping to see more birds, but we had our share of rain (what a surprise – rain in the rainforest).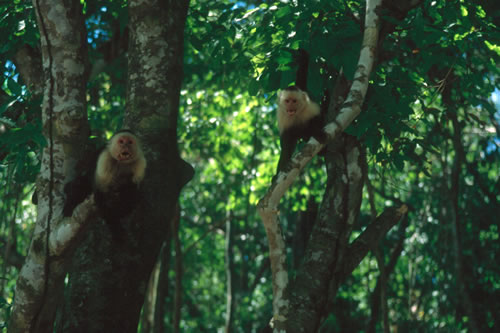 Unfortunately, February and March were not as much fun. A fall skiing in February led to a torn meniscus in my right knee and the formation of a blood clot in my right calf. So I was on blood thinning medication for three months before I could have my knee scoped and repaired. My doctor told me to avoid "dangerous activities" so I cancelled off a river trip in April. But as I had a couple of great trips planned for this year, I found her scaredie-cat approach to be unacceptable, so I resumed all my normal activities. The only after affects of the injury is I am terribly out-of-shape and struggling to resume running. The docs suggested it would be wise to end my marathon aspirations, but I haven't rule out that possibility yet. I'm a long ways from being able to run that distance - it's been much more difficult to get back into shape than I ever imagined. Maybe it's age catching up with me, or the extra pounds I put on from a summer of inactivity (compared to a normal summer), but I will keep trying – I miss it too much.
But other than the cancelled Westwater trip in April, I had a fantastic river trip year. In May I did a 5-day Yampa River trip in Dinosaur National Monument.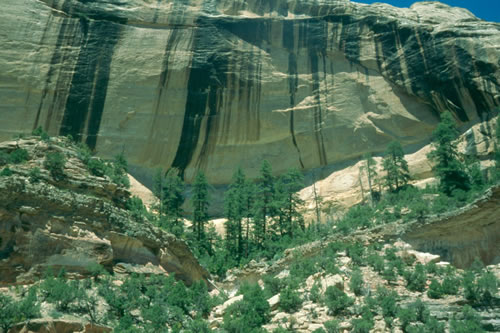 Then in late October, I started a 21-day Grand Canyon river trip. This was my private permit I applied for back in 1993 or 94. It only took 11-12 years for my number to come up. Even though I've been fortunate enough to go down the Grand almost 40 times, every trip is special. We had so much extra time on this trip; I did hikes up side canyons I'd never done before, as well as revisited hikes I hadn't done since my guiding days 20 years ago.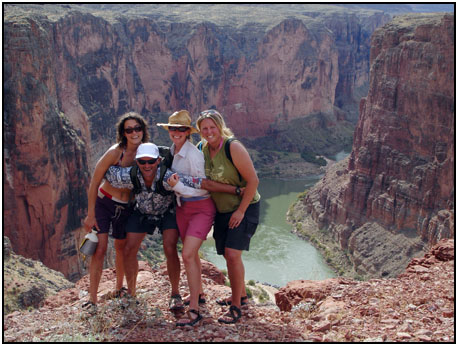 On top of Eminence Break
these two photos by Tom Palka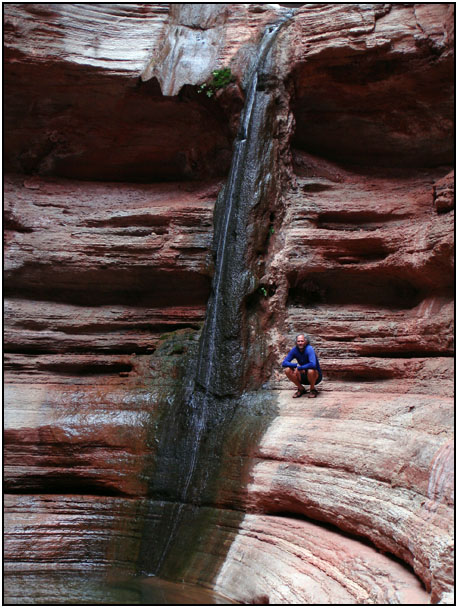 Fern Glen Canyon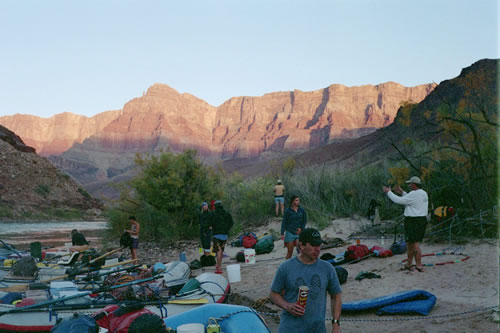 Cardenas Creek Camp
Another great trip I did this year was in September. I'd always wanted to see the Canadian Rockies, so I flew up to Calgary, took a shuttle to Banff, and hopped on my touring bike. I first road from Banff to Jasper – this road is one of the most beautiful I had ever been on. It parallel's the Canadian Rockies and the views are indescribable. From Jasper, I then road across Ontario and British Columbian into Washington to a friend's home north of Seattle. All in all, it was 12 days and 800 miles on my bike. It was fantastic!
Believe it or not, I did work some. This was an extremely satisfying year as I saw the culmination of a two-year dream and 18-months of work. In August, my very first running event, the Wild West Relay took place. A relay has teams of 6 or 12 and they take turns running the route. My relay route was from Fort Collins to Steamboat Springs and was 193 miles. I ended up with 60 teams – people came from 28 states and two Canadian provinces which was extremely gratifying. The feedback from the participants was very positive and it was one of the most satisfying endeavors I'd ever taken part in. In addition, the event raised $10,000 that we distributed to nine local non-profit organizations that assisted with the event. Two articles appeared in the Denver Post (one, two) and another two articles in the Colorado Runner magazine (one, two). In addition, earlier in the year, my brother Dennis and I were profiled in an article in Colorado Runner that documented our different approaches but similar passion for the sport of running.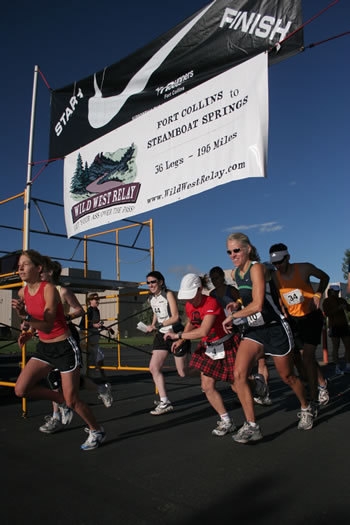 these two photos by Steve Glass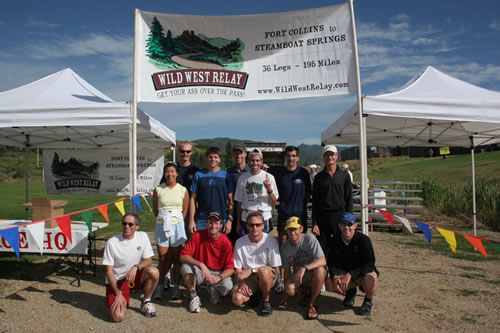 Even before the Wild West Relay actually took place, I had started working on a second event – another relay in Vermont. I'm calling it the Green Mountain Relay and am planning to have the first one in June 2006. I've made four trips back to Vermont since April, scouting out routes, doing a trial run, and most recently, meeting with town-officials, business owners and school officials, to obtain permission to use their parking lots as exchange locations. It's a beautiful rural route and I'm very excited about the potential. I've met several runners from the area who also expressed excitement over the event so I am very optimistic it will be a success. With two events, I should be able to have a decent income (i.e. making more than $1/hour I probably made this past year). I also hope to have more free time during the fall and winter to be able to travel. I'm very excited about my professional life right now.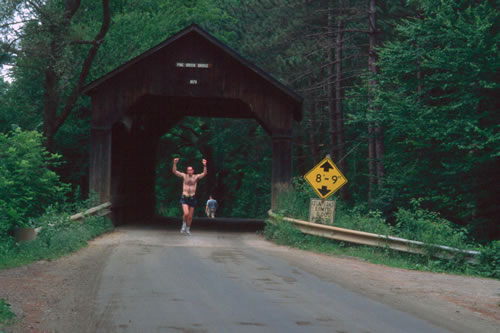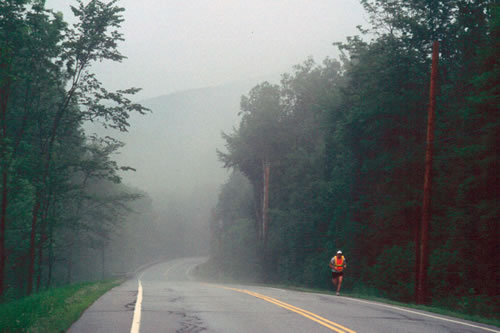 Here's to hoping a new year full of health and happiness for you and your friends and family. Let's hope for a much more compassionate, intelligent, and Constitution-abiding US Government so peace will be a more realistic possibility. And to my friends and their neighbors in Florida and the Gulf Coast, here's to hoping Mother Nature has sowed her wild oats for the time being so you are able to get your lives back to normal.