Happy Holidays!
I hope this has been a wonderful year for you.
I've had an interesting year. Sometimes life gives you that "second chance" you've secretly been hoping for but never thought would actually happen.
For the last several years, I'd been working for a good company that was a subsidiary of our local utility. The parent company decided to concentrate on their core business, being a utility, and to sell off or close all their subsidiary businesses. This past April, I found myself downsized for the second time in three years. This time, I decided to approach the opportunity differently.
The last couple of years, I've been quietly wondering what it would be like to go back to guiding on the river. I considered these thoughts as financially unrealistic, to wanting to relive simpler times, symptoms of a mid-life crisis, or from "cubicle-fever." Even so, I had started the process a couple of winters ago, earning the advanced first-aid certification required, so there was some seriousness to my wishful thinking.
Now I had the opportunity to see if the river-lifestyle was still a fit. Once the lay-off was confirmed, I immediately sent out my resume to all the oar-powered Grand Canyon companies. I also contacted an old friend I knew through the old rafting business I had in California. He was still the Operations Manager of a company that ran rivers in California, Utah, Idaho, and Oregon. Through him, I was given the opportunity to work for a month in Idaho on the Middle Fork and Main Salmon rivers. Though I had run these rivers previously, I had never worked them commercially.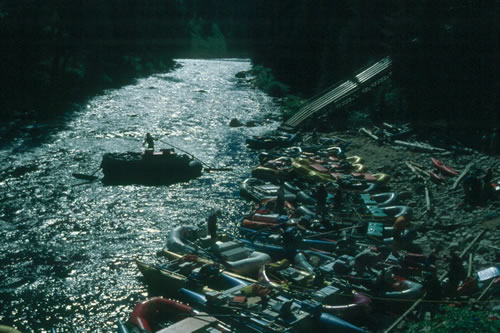 [Put - in on the Middle Fork of the Salmon]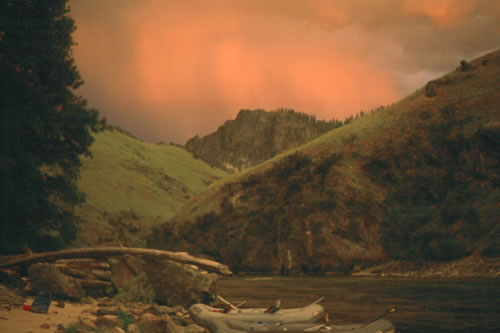 [Storm at sunset - Middle Fork of the Salmon]
I immediately felt at home again. I would tell the folks on the trips and my fellow guides that "one of the reasons I quit guiding full-time after the 1988 was I did not want to be a '40-year old boatman,' but I sure wanted to be a 50-year old one now!"
As a bonus, in September, one of the Grand Canyon companies I had sent my resume to but had not worked for before, called me. For the first time in that company's history, they had a request for a paddleboat. I had done many paddle boat trips down the Grand when I worked there in the 80's, so I was thrilled the manager had kept my resume on his desk and given me a call.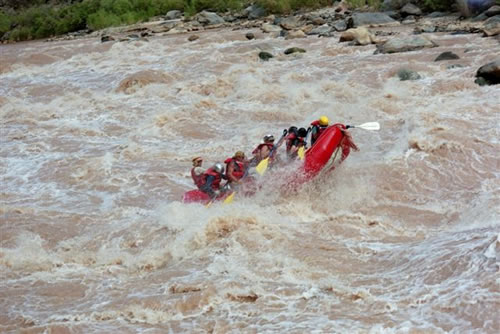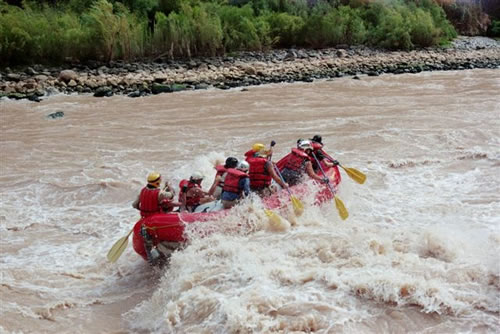 [Paddling through Lava Falls]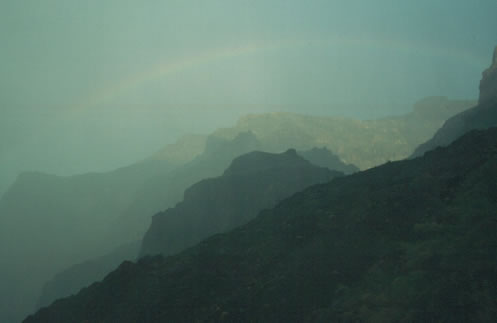 [Storm and rainbow - Grand Canyon]
After my month in Idaho and 2 weeks in Arizona, I discovered I was in love with guiding again. The burnout I had experienced in the late 80's was gone. I had a new appreciation for the privilege it was to take people down the river. I also found the clients on the trips much more interesting. I figured this was due to being older and having more experiences behind me compared to when I was in my 20's – 30's. I am hoping to be able to continue my return to the river-life next summer.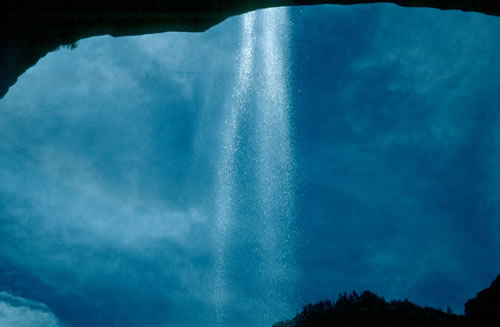 [Veil Falls - Middle Fork of the Salmon]
However, I am approaching this "return" realistically; the salary from seasonal guiding isn't going to pay the mortgage. So with my free time, I've been working on an idea that took shape last fall.
For the last 5 years, my brother and I have participated in several running relay races – we've enjoyed every single one. They've become my favorite running event – they don't beat you up like a marathon, plus the camaraderie that is created between you and your teammates from being stuck in a van for 20+ hours, suffering from sleep depravation, is actually great fun!
I'd been trying to figure out a way to use my organizing abilities as a profession, and to create my own event. I finally had come up with what I believed to be a very viable idea. So for the last 12-months, I've been working on staging a new relay event here in Colorado. We did a trial run of the course this past summer, so it is well on it's way to becoming a reality this coming August. I'm calling it the Wild West Relay. It's a 195-mile route from Ft. Collins to Steamboat Springs (www.wildwestrelay.com)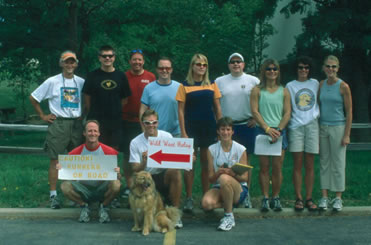 [The first team to run the Wild West Relay]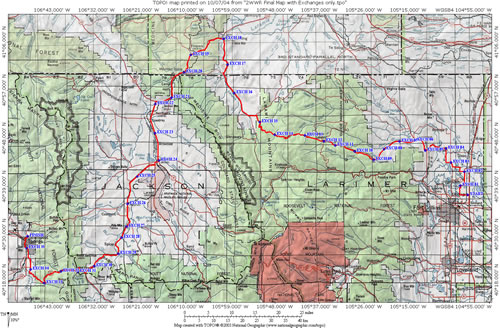 (click on map for a larger version)
[Scenes from the WWR - click on each for a larger picture]
It's been quite fun; I've learned new skills (web design, being a webmaster, and grant writing) and have met some great folks. The route is scenic, rural, and isolated, so except for the start and finish, the towns along the route are small mountain and ranching towns. The people and city officials along the route have expressed wonderful enthusiasm about the relay and have been helpful and supportive. So if this event is successful, I have a couple of other ideas of places I'd like to organize relays.
Other than that, I've had a relatively normal year. I spent the New Year's weekend backpacking with friends in the Grand Canyon, ran the Twin Cities Marathon (my 14th) in Minneapolis in early October, and ran two relays – our fifth Colorado Relay in September, and a new relay for us in California (Calistoga to Santa Cruz) in late October. That was fun as I chose to run the leg over the Golden Gate Bridge at 3:00 in the morning!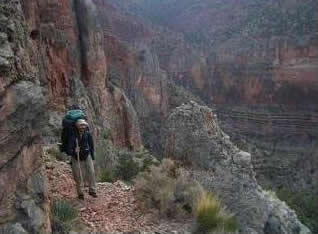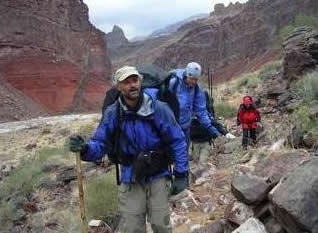 [The Hance Trail - Grand Canyon National Park]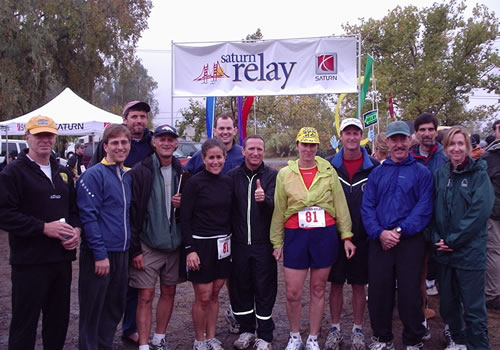 [Start of The Relay in Calistoga - 4 of us from Colorado, and 8 new friends from Washington D.C. and California found via the Relay message board]
But this year wasn't without some sadness. My mother, who had been battling MS for almost 20 years, finally succumbed to the disease this past spring. She was tough, but in many ways, it was a relief to finally see her escape the physical being she had been trapped in. On a positive note, my father is doing well; he continues to be a traveling fool. My brother, sister, and their families are doing great. It's been wonderful watching my nieces and nephews grow up and develop their own personalities.
Plans for the first part of the New Year are to again spend the New Year's weekend backpacking in the Grand Canyon and then my first trip to Costa Rica. I have an opportunity to start guiding again as early as March on the Salt River in Arizona for a couple of months, but I'll have to see what the status of my relay is. It may not be feasible to be away for that length of time.
I wish you a very happy and healthy 2005. Feel free to drop me a line when ever you are able. I'd love to hear from you.
You are in my thoughts and I appreciate your friendship.