| | | |
| --- | --- | --- |
| | EVENT DIRECTORS | |




The Vanderheiden Brothers - Leading The Way
Marcie Glass
Issue 9 (Jan 2005)
Colorado Runner
Photos by Steven Glass / Glass Photography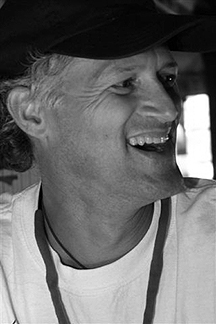 Photo: Paul Vanderheiden
If you have participated in many running events, you have probably found that Colorado's core running community can become a small world fairly rapidly. This is especially true if you are the Vanderheiden brothers. Paul and Dennis Vanderheiden have been running for years, but these two, rather than just participating in the running community, have become pioneers - not because of setting blazing times or winning all the races, but because of their involvement. Dennis has been the main force behind several youth running programs in Fort Collins and Paul is currently organizing the Wild Wild West Relay, a 192 mile, 12 person relay from Fort Collins to Steamboat Springs. Their energy and dedication, or maybe obsession, has made them a well known pair in the local running community. It doesn't hurt that it is a comical sight to see these two together with their brotherly antics. They throw mock insults and compliments at each other and are, in turns, animated, enthusiastic, funny, and sincere.
I just happened to interview them on a beautiful October day after Paul had finished helping with the timing of the Flame Out 5K, part of his race director in-training education, and Dennis had rushed over after his cross country team's first race of the season. This was just a typical day in the life of these two running zealots. The brothers were full of energy, casually dressed, with Paul's crazy grey hair sticking out of the baseball cap he seems to perpetually be wearing, and Dennis wearing his "Fort Collins Track Club Junior Cross-Country" sweatshirt, as they sat down to tell me their story.
Paul, a free spirit, who has chosen a life avoiding the corporate world and nine to five jobs, initially moved from King of Prussia, Pennsylvannia to Fort Collins in 1973 to attend CSU. His chosen profession as a river guide took him out west but he eventually returned to Colorado and is now living in Englewood. He credits himself with having discovered Colorado - the rest of the Vanderheiden family made a mass migration over the years, including mom, dad, and sister, Sandy. Dennis and wife, Cindy, moved to Fort Collins in 1996.
Paul dabbled in running periodically but his first foray into the world of racing was in 1981 when he decided to run San Francisco's Bay to Breakers with some persuasion from an attractive woman (at which Dennis quipped, "Paul, you are such a simple person."); however, it wasn't until his first marathon, Big Sur, in 1993, that he became hooked on running. At the time he was an unemployed flight instructor with extra time to devote to running. Despite having no idea how to train for a marathon and not even signing up until the day before the race, he soon transferred his obsession with river guiding to running.
Since then he has done a myriad of races, including 14 marathons, but he has also worked with the Leukemia Society Teams in Training, managing several teams for the Honolulu, Orlando, Vancouver and Anchorage Marathons, and mentoring a team for the Chicago Marathon. In recent years, however, Paul's interest has turned more and more towards 24 hour team relays. One of Paul's most memorable running experiences occurred on the last leg of his first Colorado Relay, while running in complete darkness at two in the morning. With a pondering look at the memory, he shakes his head and says, "It was the most surrealistic experience I've had." Since then, the two brothers have participated together in several Colorado Relays (170 miles), Hood to Coast (197 miles), and this year, will be running the Providian Relay (199 miles) in California.
The idea for the Wild Wild West Relay evolved when Paul, disappointed with some issues in another relay, decided, "I could do this better." I'm just guessing, but Paul seems like the type of person who, once he's got an idea in his head, takes off running with it. In November 2003, he pulled out his maps and started studying possible routes from Fort Collins to Steamboat Springs, and in August 2004, had one team unofficially run the proposed course. It was during this unofficial run that Dennis had his most memorable running experience. Similar to Paul's, it was at 10:30 p.m. in Wyoming, and he felt like a pioneer, reveling in the "thrill of running" when, out of nowhere, a group of ATV riders came out. Dennis says with an attempted country twang, "It was like out of a bad B grade movie" where the bad guys "are gonna go to threaten us, you know, and mess with our women." Despite the B movie interlude, the run went without a hitch. Paul is currently in the permit process and plans to have the inaugural run on August 19-20, 2005.
This event is his baby, a project he has been looking for "when he grows up" and seems to fit his organizational talent and self described anal-ness. Paul is excited about the relay, not only because he can justify new toys like a GPS system and computer upgrade, but also because he feels that relays are the next big thing in running. He concedes that adventure racing seems to be the fastest growing sector of events but he describes relays as "manageable adventure races" for ordinary people.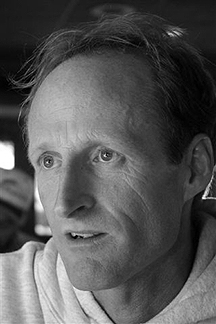 Photo: Dennis Vanderheiden Dennis, in sharp contrast to Paul, is the family man with three children - Alyx, Kylie, and Kelly - and the "real" job as a developer consultant. Dennis began his adult running career in 1999 after finding himself winded in a softball game running to first base. Inspired by a neighbor who was on a record number of days of exercise in a row, Dennis took up the sport. Running clicked right away and besides immersing himself in the sport, he has also been promoting youth running in the Fort Collins community for several years now. In 2002, he helped the gym teacher at Tavelli Elementary start a running club for that school. It wasn't long before he came up with the idea for a duathlon event where parents could participate alongside their kids. The result was the Tavelli Duathalon - a bike, run, bike event for parents and children grades K-6. The event has run for three years, with this year's attendance at about 180 participants. As an observer at the event this year, I saw that it was not only beneficial for promoting health and fitness in kids but also for self esteem and confidence. For an adult who is sometimes timid about venturing into new experiences, the exuberance of little kids in big helmets embracing the event was delightful to see.
Also, during the same time period, Dennis's middle daughter, Kylie, was enjoying running and Dennis's thoughts soon turned to starting up a junior high cross-country program in Fort Collins. Despite the presence of junior high cross-country programs in neighboring communities, the Poudre School District was not interested in sponsoring a program. Dennis turned to the Fort Collins Track Club and with their help was able to create a club cross-country program. The program, first run in the fall of 2003, is now in its second year. It has been a labor of love for Dennis, who has put tremendous amounts of time into the program between practices, meets, administration, and promotion. He says he has no more youth events in the works but somehow I'm left with the impression that his mind keeps ticking.
The brothers have an impressive race resume. Paul traveled all the way to New Zealand to do the Millennium Marathon on January 1, 2000. Dennis has traveled to Cordova, Alaska to participate in the Salmon Runs Sockeye Half Marathon. They name events like the Boston Marathon, Bay to Breakers, Big Sur, Honolulu Marathon, Philadelphia Marathon and Mardi Gras Half Marathon. When asked if they are competitive the two brothers good naturedly banter about how Paul, who was the first to start running, used to have bragging rights but now Dennis is knocking off all of Paul's PR's. Only his marathon PR of 3:09 remains standing. Dennis claims that the last race Paul beat him in, several years ago, was due to Paul stealthily feeding him ultra-dense whole wheat waffles before the race. Paul defends himself vigorously, "It's what I was used to eating." Dennis responds, "I gained ten pounds." But when serious they acknowledge that running has brought them closer together.
I ask what their personal running goals are and they go into a discussion of the evolution of running in their lives. At a youthful 50 years old, Paul is no longer at a point where personal records are important. Even Dennis, at 45, says PR's are getting old. Dennis would now like to venture toward triathlons and Paul mentions his goal of running a marathon in all 50 states. He already has eleven checked off his list. But, then, he ponders, it might be easier to try to do a marathon on each continent. Both of them have run the cycle from PR's to marathons to new events to relays. It seems now that the two of them are more interested in just having fun. They comment that one of the greatest joys for them is the people they meet in the running community. They stress how grateful they are for the down to earth, friendly attitudes they find there, even from elite runners. Paul and I have a hard time believing when Dennis says he was introverted and shy as a child. He now has no problem approaching runners and networking, always trying to find new members for their relay teams. In fact, they were a few minutes late for the interview because he was meeting a local runner who he wanted to recruit for next year's Colorado Relay. It's no wonder their team, No Small Feet, has won the mixed division in the Colorado Relay the past two years.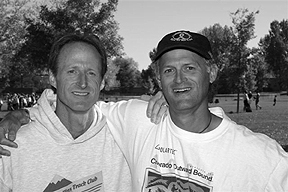 I wonder how much time they devote to running considering racing, training, volunteering, planning, promoting, and dreaming. They laugh and Paul replies, "Most of my waking hours" and Dennis responds, "Probably more than half of my waking hours". I review their recent race schedule. They both ran in the Colorado Relay at the end of September and the next weekend Paul ran a marathon and Dennis ran the Coopersmith Half Marathon. Coming up, three weekends later, is the Providian Relay. It seems obsessive but not unhealthy, despite email addresses like "COrunboy" and "runriverrun", a combination of Paul's running and river guiding passions which he took from an old Loggins and Messina song of the same name (being a few years younger than Paul and Dennis, they had to explain to me who Loggins and Messina were). Paul says he has gotten over his running obsession of previous years and has stepped back, taking the time to backpack and enjoy other areas of his life. For Dennis, who has gotten most of his family into the sport, running is something to share with them and seems to give him a deep sense of fulfillment. Despite the mass amounts of time these two brothers devote to running, it is far from an obsession for them - it is a way of life.
As I walk out of the interview, I have a smile on my face. There are some people who elevate your spirits and inspire you and, maybe most importantly, make you laugh. Dennis and Paul are two such people. I look forward to seeing them at races and am curious to know in the future what else they have up their sleeves.
About This Site | About Running Network | Privacy Policy | Copyright | Contact Us | FAQ | Advertise With Us | Help | Site Map